Top-Rated Commercial Roofing Company
We are your single source Commercial Roofing Contractor providing Free Estimates for New Roof Construction, Re-Roofs, Roof Coatings and Roof Repairs.
Contact us today for a NO Obligation – FREE Estimate.
Why We are the best commercial roofers
Hundreds of happy customers, throughout California, have reviewed our roofing services expressing the satisfaction we provide our customers.
Out of our Loomis Office, we have worked on roofs in Sacramento, Roseville, Lincoln, Rancho Cordova, Citrus Heights, Granite Bay, Auburn, Grass Valley, Folsom, Rio Linda, and more.
Fast and easy financing available with nothing out of pocket. Pre-qualify in just 60 seconds on our website without affecting your credit score.
Get peace of mind with our lifetime warranties on all products and installations. Ask about our warranty options for your home or business.
Commercial Roof Certifications
Commercial Roofing Services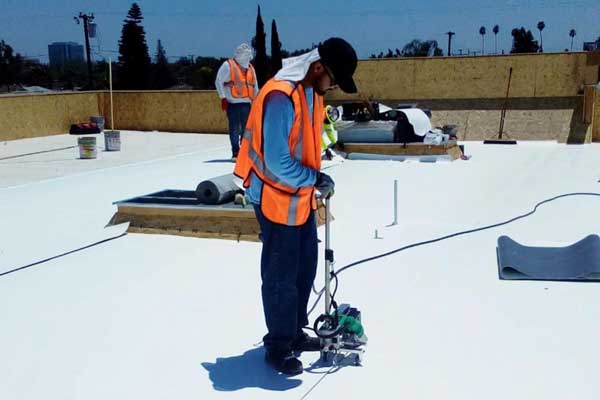 Commercial and industrial roofs can be repaired to eliminate the need for complete roof replacement. Most commercial roofs are flat roofs, which can cause multiple leaks due to exposure. We'll work with you to come up with a plan and timeline to ensure the least amount of disruption in your business.
Instead of removing your roof and replacing it, let's see if we can repair or restore your roof for a fraction of the cost.
Commercial Success Stories
Glasswerks Warehouse Roof Restoration in Temecula, CA
This 170,000 square foot commercial building in Temecula was bringing in some new tenants who wanted to make sure the roof would be solid. Level 1 Roofing was contacted to provide some options for this roof. Originally a full roof replacement with TPO was discussed and considered. Since the integrity of the existing roof was still intact we could restore the roof with a premium silicone roof coating, even with some current leaks. The installation of silicone coating by Level 1 Roofing is backed by a great 20-year labor and material warranty from the manufacturer.
"We have had the pleasure to have Level 1 Roofing Company here to repair this God Awful roof. 5 stars for quality, fastness, safety, etc! Mostly their good humor. Of course I'll have to wait till it rains to find out anything!! Ha Ha. Just joking. John & myself would surely recommend this company!"
"Kevin and his team did excellent work on our building. They provided cleaning and spot repairs on our 10,000 SF flat roof. Thanks!"
"Exceptional service and quality. True professionals. I highly recommend their services!"
NO Obligation - FREE Estimate