This is Tooltip!
Best Roofing Systems in the Greater Sacramento Area
This is Tooltip!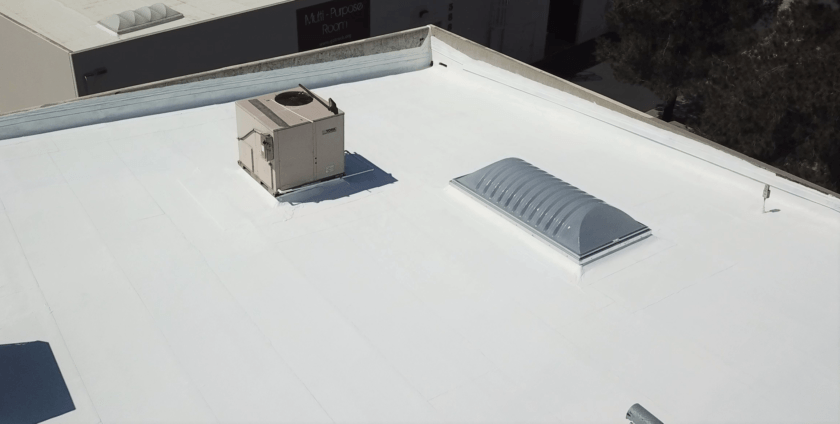 This is Tooltip!
Each geographical area and climate will pose different challenges to a roof
With the rapid changes between the sun's UV and rain, some roofs won't hold up. There are unique issues and concerns to CA and Sacramento in general that should be considered. A built-up roof, composed of tar and gravel, tends to not age well unless it's regularly maintained. Built-up Roofing also suffers from poor energy efficiency when compared to other flat roofs. A white and reflective roofing membrane like TPO or Silicone Coating will not only be a cooler roof but is also more durable vs UV radiation from the sun. Having a cool and durable roof is crucial in areas like Sacramento where HVAC units, control panels and more are often situated on the roof. In the case of ponding water, both Single-Ply TPO as well as 100% silicone coating are rated to withstand it.
Homeowners typically have two options in roofing
In the case of steeper slope and residential roof systems, both shingles and tile are popular options. In the past darker colored shingles could cause the roof/attic temperature to rise on sunny days. Homeowners that wanted a darker color roof were faced with the negative consequences of a hot roof. In recent years GAF and others have developed new shingle technology to provide a cooler roof even with dark colors, such as Charcoal and Sagewood. We tend to install the GAF Timberline HD Reflector Series, homeowners love the colors and cool roof aspects. Since Level 1 Roofing is a GAF Certified Contractor, we can provide a Lifetime Limited Warranty through GAF. As the largest manufacturer of roofing in North America, you can rest assured that GAF will stand behind their excellent warranty.
Roof tiles are usually a red or orange color with some darker variations available for concrete tile. Roof tiles are a proven and common way to roof a house. Most homeowners think that the tile is what keeps water out. In reality, the tile has very little to do with waterproofing. The layer(s) of underlayment between the plywood and the tile is what truly keeps the water out. A slipped or broken tile itself will not cause a leak immediately. Over time the exposed underlayment will deteriorate much faster than a section with roof tiles in good condition. Around 20 or more years of age an asphalt felt underlayment under a tile house will become extremely brittle. At this stage, the underlayment can spring leaks with any wind, heavy rain, or shift of the earth. When Level 1 Roofing installs a new underlayment for a tile house we use high-quality synthetic underlayment.
Contact us if you have a roof you would like a free quote on at 916-258-7393 or shoot us an email to [email protected]
Level 1 Roofing Difference:
Commitment to Quality and Value
Ready to Repair, Restore and Replace Every Type of Commercial Roof
Residential Roofing With Quality Materials
Friendly Staff and Experienced Technicians
No Obligation Estimates
Fully Licensed and Insured in California