This is Tooltip!
Lakeside Church Folsom Roof Restoration Coating Installation
This is Tooltip!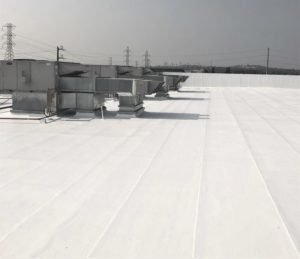 This is Tooltip!
When Folsom's Lakeside Church management was faced with an aged and failing roof, many other roofers would want to do a roof replacement or reroof. While tearing off the old flat roof and installing a new rolled or TPO roof would be one way to go, Level 1 Roofing, offers options when sending bids for any roof. A roof replacement will do the trick but the price will be much higher than the silicone roof restoration we installed on this low slope roof in Folsom. The silicone coating system we use creates a monolithic seal for your entire roof. Not only does this save you money by not removing the existing roofing, we can offer our Level 1 Roofing Warranty on top of up to a 25-year material and labor warranty straight from the manufacturer.
Our silicone roofing process starts by cleaning the existing roof surface. If there is loose gravel on the roof we will either scrape or use a vacuum to remove any loose gravel. On this Folsom church building, we did not have any gravel to worry about. Our crews will then start applying the seam sealant silicone on all laps of the roof material and the areas surrounding the drains. Then, the final coat of the silicone coating solution is sprayed on evenly across the entire roof deck and walls.
Since we can continue using the existing roofing this becomes a much more environmentally friendly roofing system. Less roofing and asphalt end up in landfills. The bright and reflective white silicone coating is also energy star rated. Around 90 percent of the sun's light is reflected. This means a drastically cooler roof and building when compared even to a medium grey rolled asphalt roof. Cooler temperatures can mean big savings for your wallet and a lower carbon footprint.