This is Tooltip!
Low Slope Roof Restoration in Citrus Heights, CA
This is Tooltip!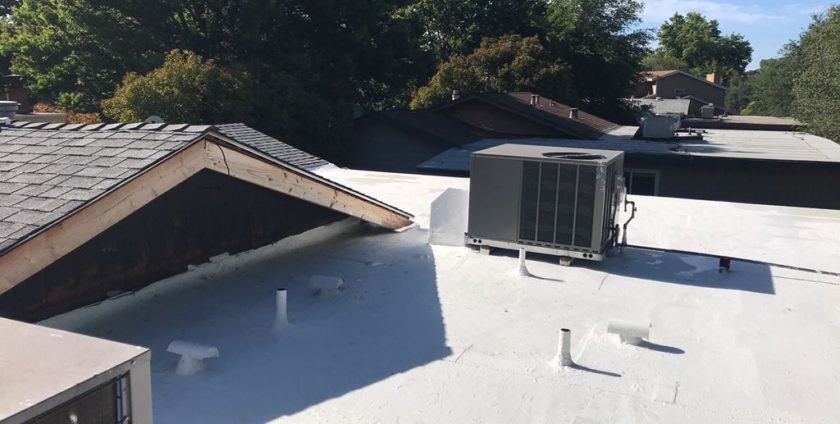 This is Tooltip!
This homeowner on Saint Philomena Way in Citrus Heights recently had the roof replaced by a different roofer. Even still the roof was experiencing leaks. Trying to fix the problem, they called us, Level 1 Roofing to solve the issue with the leaks. In order to save the homeowner money and not have to remove and replace the flat roof, we proposed a roof restoration. Using a high solids silicone to completely seal and waterproof the roof for decades to come. Our crews started on the process by identifying laps, corners, and penetrations that have the largest chance of developing into leaks and applied seam sealant material to these areas to ensure water does not penetrate the seams. This material is reinforced with fibers to give these sections extra strength and protection. The silicone roof restoration service we provide allows you to take nearly any low or flat roof and make it perform as well if not better then when it was new. With a warranty of up to 25 years on material and labor, it is no wonder why for this Citrus Heights roof was restored instead of replaced.
Not only does the coating system reflect over 90 percent of the sunlight it also does not store the heat nearly as much as darker roof materials. This means big savings on cooling costs. Especially in a case like this where the HVAC unit is roof-mounted and is directly impacted by the roof temperature. This cool roof also stops much of the heat out of your attic and interior of your house. Making your cooling system work less is key in keeping your energy bill down.
Interested in a residential roof restoration or any other roof work? Give us a call at 916-258-7393 or shoot us an email with your details to [email protected]